Speaker Feature - Thomas Dougherty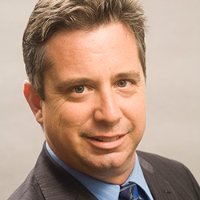 Speaker Feature -
Thomas Dougherty, CPRW, FCWP
Casper (The Friendly?) Ghost
Are you Casper the Friendly? Ghost……..
In my previous article "The Importance of Being Specific….." we spoke about how to go about "Linking" those you did not know and how to do it properly. Today we'll talk about your own profile and what steps you COULD take to help you "get noticed" during your career, whichever level you may be.
Whether it's excelling at a "C" Level position or just getting started right out of college – here are a few things to help you along the way. We've all seen those GREAT profiles, full of content with endorsements & recommendations (yes there is a difference between the two). The profiles have great information – WHO they worked with – WHAT they have accomplished in their career and HOW they got where they are today. All with supporting documentation, references & recommendations – this is fantastic! But then we get to the opposite end of the spectrum (today's lesson) the "GHOST" Profile, with limited information, no documentation, references, recommendations or the best one – NO PICTURE!! WHO ARE YOU?? Should/would we WANT to connect to you, much less a recruiter who is looking for the next "right" candidate? Here are some thoughts:
1. Profile Picture. When you are developing your professional LinkedIn profile you need to have a NICE profile picture. NOT one of you behind your steering wheel, a "selfie" taken in front the bathroom mirror and one where you cut your spouses arm off because it was taken at a wedding or celebration (we've seen all of those and YES I hear you laughing too).
A recruiter looks at the picture to see who you are and the relevant content that supports your career. They are not going to hire "Casper The Friendly Ghost" – I'll (almost) guarantee it! The best way I've discovered the picture approach is to stand against a wall that will not "blend in" to your skin tone. Have someone take 9 pictures total, from the shoulders up – 3 with your left shoulder touching the wall, 3 with your right and 3 looking straight ahead – all of them done while looking up and into the camera – and LAUGH!! The best pictures I've seen are those taken when the person did not seem ready. This works and does not cost a fortune (Try it), verses going out and getting a professional head shot taken (you can do that too – IF you want to spend the money). Then show those pictures to friend you trust to see which one they like best and you'll probably agree on one.
2. Endorsements & Recommendations Yes there is a difference between the two.
The Endorsements are the easy ones. They are the "like" button – just as it is with Facebook. Easy to do – you "LIKE" the fact that someone did something (you LIKE my articles – hint hint). Just hit the "like" button and you're done, nothing further. BUT now comes the more difficult item, the Recommendation. How relevant is it that you have those? VERY!!
A recommendation is a key to survival in your career. Sure, you can post PDF reference letters but to have a connection speak highly of you for something you accomplished is a powerful tool. A good rule is to have (at least) 5-10% of your connections recommend you (so if you have 400 connections you should have at least 20-40 recommendations) – either PDF or actual written into you profile by others. AND DO THE SAME FOR THEM – PLEASE. When writing the recommendations, do it in Word first, to correct spelling and grammatical errors. Then copy/paste into the "LinkedIn Recommendation" box and send it out. Hopefully the person you're doing it for will reciprocate and do the same for you. Because it works both ways to be nice, right?
3.Who are you connected to? Are there lots of "ghosts" with no picture, work history, recommendations or endorsements – then why connect? Ask them (be nice) to "up" their profile. LinkedIn will even tell you what you or they are missing each time you log in. If you are connected to "ghosts", ask yourself "Are they relevant?" and "Do they have all of the above?" IF not – disconnect them. Recruiters do look at WHO you are connected to as well and if there are a lot of "Ghosts" they might question your own vitality and relevance of your profile.
The connection will probably never know that you un-linked them, due to themselves not working on a relevant LinkedIn profile. I'll admit I have 4 "ghosts" that I'm connected to and those do have a full profile except no picture which I've asked them to please get one. One is a family member who keeps up with me here on LinkedIn so I won't delete them….(I know the pot calling the kettle.....)
Hopefully this information is relevant and will be taken to heart. I do enjoy assisting those who need it and if you need a great speaker or team motivator please feel free to reach out to me and I'll see you in August at the FFEA Convention where we'll talk on "What Is Your Link-A-Bility" to help enhance and excel your career to the next level!
Thomas
© 2016 Eclectic Trainings – Thomas Dougherty
The original article appears here: http://tinyurl.com/hwpyh43
Be sure to check out Thomas Dougherty's speaker session, "What Is Your Link-A-Bility", at the 2016 FFEA Convention and Tradeshow, August 9-12 2016.
Share this post: