FFEA Member Recognized for Excellence in Online Education
FFEA Member Recognized for Excellence
Florida State University Panama City Associate Dean Dr. Steve Leach congratulates instructor and program coordinator Rosemary Prince at the recent Office of Distance Learning Awards Ceremony
The FSU Office of D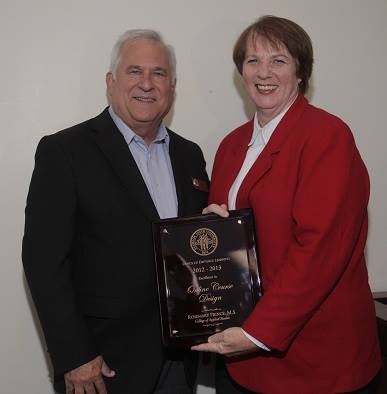 istance Learning (ODL) recently recognized faculty in Florida State University Panama City's College of Applied Studies for their outstanding work in online education.

Rosemary Prince earned the Award for Excellence in Online Course Design, and Banyon Pelham was recognized for Innovative and Effective Use of Technology. This was the first year the ODL presented awards to recognize faculty for work in distance learning and promoting effective practices for online and distance learning across disciplines.
"I am proud of how these two faculty members are committed to excellence in their online courses," said Ken Shaw, dean of the College of Applied Studies. "They work hard to create, maintain and teach their online programs."
Prince, who has been on staff since 2006, was honored for her work on Introduction to Recreation, Tourism and Events (LEI 3004). The Excellence in Online Course Design was given to new or newly redesigned online courses exhibiting quality design in instructional materials, learning objectives, assessment strategies, learner interaction and engagement, course technologies, learner support and accessibility.
She also developed and designed the Graduate Certificate in Event Management.
"I am honored and humbled to receive an award for Excellence in Online Course Design," Prince said. "The opportunity to be a part of the faculty teaching in the distance learning community at Florida State University is exciting and rewarding.
"I am continually challenged to find ways to streamline the process of learning for students in the online environment. I am equally inspired by the ways to engage the students through the cutting-edge technology and faculty support available at Florida State University."
"Rosemary has been offering quality online courses at the undergraduate and graduate level for a number of years," Associate Dean Stephen Leach said. "I am pleased that she has received this well-deserved recognition."
Pelham was recognized for Innovative and Effective Use of Technology for a paper he wrote detailing the use of remotely integrated technology in teaching the upper level law enforcement course, Crime Mapping and Analysis, and its effect on student learning and motivation.
Share this post: