Meet the Member - Samantha Johnson
Meet the Member
Samantha Johnson, Special Events Account Manager, Miami Dolphins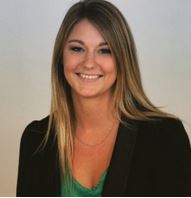 Number of Years with your current company:
What does your company do? The event sales side of our company markets the venue to third party event clients that are looking for spaces to host festivals, concerts, corporate events, social events, and a variety of others. We manage these events from start to finish and work with our clients to create specialized event plans to ensure their success.
What makes your company stand out from your competition? Our spaces are unique and unlike any other in South Florida. After phase 1 of our $400 million dollar renovation last year we added 5 new luxury spaces that serve as premium seating options on game days and can be rented out for private events on non-game days. These new spaces have been designed by Rockwell group in New York and capture the class, luxury, and excitement of Miami. While in these spaces the guests have the opportunity to host portions of their events outside next to the field or in the Locker Room which creates a unique and exciting atmosphere for the guests. Our parking lots are also large, wide, and paved and cover over 2 million sq. ft.. They provide the perfect locations for festivals and outdoor concerts with ample parking and access to stadium resources such as equipment and event logistics expertise.
First Paying Job: I worked at a crab shack in Baltimore (my home town)!
First Break into your business: We've had many successful years on and off the field but this is an especially exciting time for our football team that just celebrated their 50th season and the venue which is currently being renovated to be an iconic destination for global events. Phase 2 is currently in process which will add a state of the art canopy to shield guests from the rain and will have a hole in the middle to allow for a natural grass field as well as the addition of 4 new video boards! While the building is shut down until the season, the outer parking lots consist of 1,500,000 million sq. ft. and are still available throughout the renovation.
Best Book You Have Read: The Power of Habit
Best Advice you have ever received: There's no sleeping in the sports industry, it's a 24/7 job and you have to have the passion to succeed
College/Education: University of Maryland.. Terps!
Favorite Sports Team(s): Miami Dolphins (of course)
What is one of your favorite quotes? Dogs live shorter lives because they already know how to love unconditionally (I'm an animal lover)
Why did you join FFEA / What is the best benefit of being an FFEA Member? I joined to connect with event producers and managers of Iconic Florida festivals and events. We are a great venue to host these types of events and we'd like to get out into the industry and explore the idea of bringing some of these great events to the Home of the Miami Dolphins.
What is the single most important piece of advice you would give to someone in the event industry? The best thing you can do to operate a successful event is to have a well thought out plan and execute the plan to the best of your ability. There will always be bumps along the road but the key is to keep calm and have plans in place to be more proactive then reactive.
Share this post: