Our Nation's Capital...In Florida?
Our Nation's Capitol...In Florida?!
South Florida Fair Event Review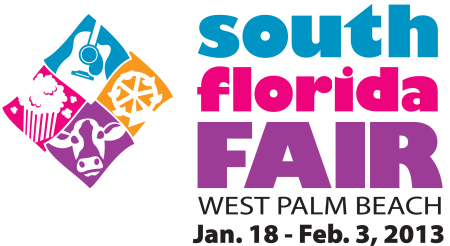 The South Florida Fair has been a tradition for over 100 years – unfortunately for me I had absolutely no idea just how incredibly amazing this Fair was until I had an opportunity to do a Behind the Scenes Tour this month.
I don't really know what comes to your mind when it comes to Fairs, but for me it has always been food and rides. I'm almost embarrassed to admit that as many times as I have been to fairs throughout the state, I have never really taken the time to "explore" all that they have to offer. All of that changed this weekend when I visited the South Florida Fair.
Here's a little background on this event:
The South Florida Fair has been around for 101 years and is held at the Fairgrounds and Expo Center for 17 days in late January/early February each year.
Over the past several years, the annual fair has incorporated a theme as a means of stimulating tourism as well as the educational and cultural interest of the residents of Palm Beach County. This year's theme was "Washington DC, Our Nation's Capitol" – more on that later.
The annual fair attracts nearly 500,000 people through its turnstiles and has more than a $149,000,000 (yes that's alot of zero's!) Economic Impact.
Ok – so here's how our tour went!
We started the day in the Expo Center where we saw the sponsor exhibits and were able to explore the remarkable and patriotic 70,000 square foot exposition of the first planned capital. Here were a few highlights:
The Florida Holocaust Museum exhibition, "Courage & Compassion: The Legacy of the Bielski Brothers," which includes an overview of the Holocaust within the history of the Bielski partisan group

"The President's Photographer: Fifty Years Inside the Oval Office," is a new traveling exhibition showcasing both iconic and rarely seen images of U.S. presidents through the eyes of their official photographers.

The "American Presidential Experience" allowed visitors to enter Air Force One, the Oval Office, view exhibits of First Lady gowns, sit in President's chairs and experience a photo opportunity at the President's desk, the U.S. Capitol Dome and the Washington Monument.
Seriously I could have spent all day in there! I'm not normally the history buff in the family (my husband was a history major turned banker) but it was so incredible to see these amazing exhibits and to get to touch and see actual American history. Here are a few pictures of the exhibits.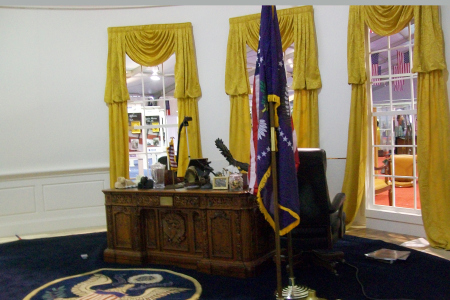 Oval Office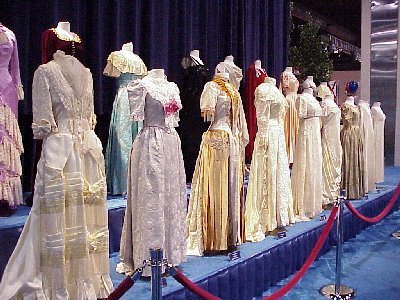 First Lady Dresses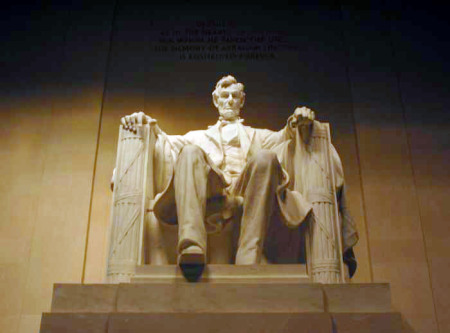 Lincoln Sand Sculpture
Before leaving the expo center we had the opportunity to meet with Rick Vymlatil, the Fair's President. I kind of have a soft spot in my heart for Rick because, well, he was on the search committee that hired me. But also because he is one of the most genuine people you will meet – which is actaully true of everyone I have met on his team which in my opinion is a direct reflection on his leadership. Rick graciously spent his time talking to our group about the Fair's entertainment and how they operate. He explained that they focus on "edu-tainment" (totally stealing that word!) and use the many components of the fair to educate the patrons on agricultural and livestock exhibits which clearly provide the greatest variety of such exhibits anywhere within Palm Beach County. Even though agriculture is such a tremendous part of Palm Beach County's economic base, many school children have never been exposed to it. However, at the South Florida Fair, not only can they see and learn all about agriculture, but can even witness a calf being born, or learn how a dairy is operated. (lots more on that later!) Anyway, it's pretty clear that there is no shortage on Entertainment at the Fair – everything from book signings with James Patterson (yes, THE James Patterson) to Elephant Encounters, the Price is Right to the Classic Rock Tribute Band Competition and from hypnotists to Hambone Pig Racing. You name it and they have got something for everyone throughout the 17 days.
After the Expo Center tour we headed out to the midway. It was before the Fair opened and it was really amazing to me how clean the grounds really were. The whole team seemed to really take pride in how clean and efficient they were and that was very apparent throughout the entire day. The other thing that really stood out to me was their environmental consciousness. The Operations Manager told us that his team spends each night of the fair sorting through the garbage to pull out anything that can be recycled. Seriously? That just blew me away. I don't know of many events that go that far to reduce their footprint. Super impressed!
Here are a few ride photos. Oh the other cool thing about this Fair is that their midway partner, Wade Shows, started a new Gold Access Pass program where you can purchase a pass and move through the line faster. Totally worth it!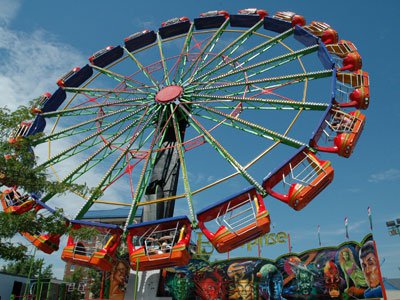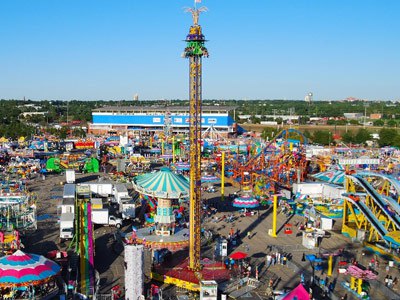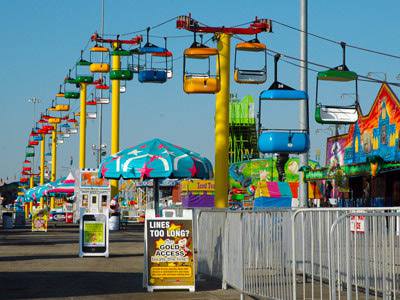 After the midway we headed off to the Agriplex. This is where my eyes were really opened. Like literally. Now I should note here that I'm from a small town in PA so I should really know about things like pigs and goats and horses and the like. The Fair had so many different varieties of poultry that our group couldn't even see all of them during our tour. I took a picture of my favorite – the mean rooster – he doesn't really look that mean to me but let's just say I wasn't about to test him!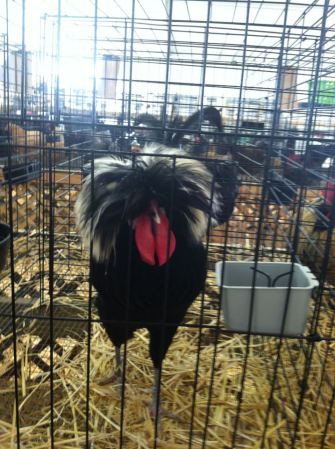 While we were there the Fair Committee was busy doing tours for hundreds of school children – which they do every day while they are open. It was so great to see the kids get excited and learning about Florida Agriculture.
After the Agriplex Tour we headed to Yesteryear Village – an area totally unique to the South Florida Fair. Yesteryear Village is a history park nestled on 10 acres at the Fairgrounds, showcasing buildings and artifacts from the 1895's to the 1945's. They offer year 0round tours and events where guests can discover a large collection of early, original and replicated buildings including an old school, a farm, a blacksmith shop, a general store, and several houses. They also have the only big band museum in the United States, the Sally Bennett Big Band Hall of Fame Museum. Here a few pictures of the buildings and volunteers.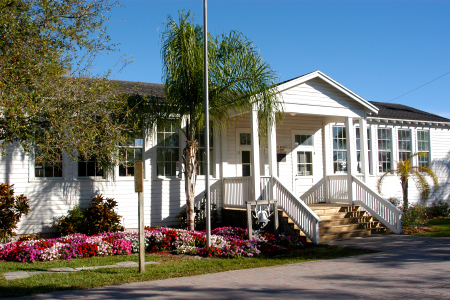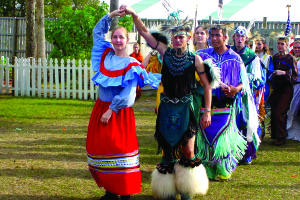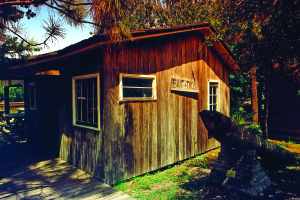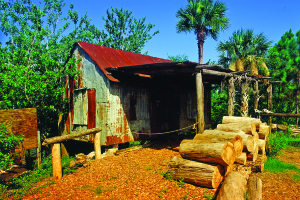 I think we could have spent days touring the Fairgrounds and still would not have really been able to experience everything they have to offer. There are so many other things that I didn't even touch on – their scholarships, the Pageant, – I could go on – but you will just have to join me at the Fair next year! Special thanks to all of the Fair staff and volunteers for being such gracious hosts and to Rita and Vicki for planning and coordinating.
Tomorrow I'm off to the Taste of Italy – these trips are really killing my diet but who can turn down Tiramisu?! Until then here are some more Fair pictures!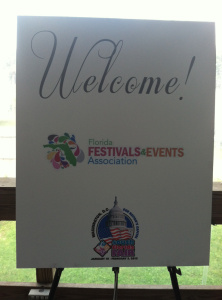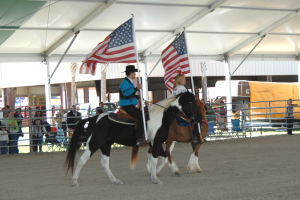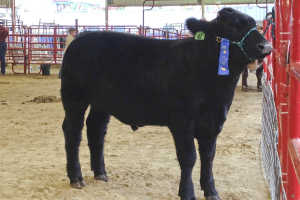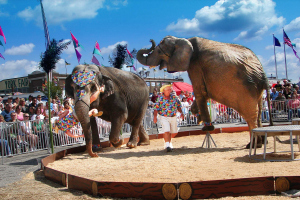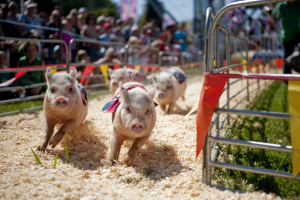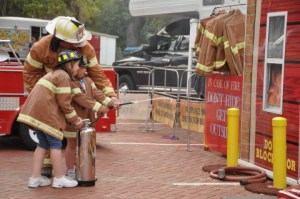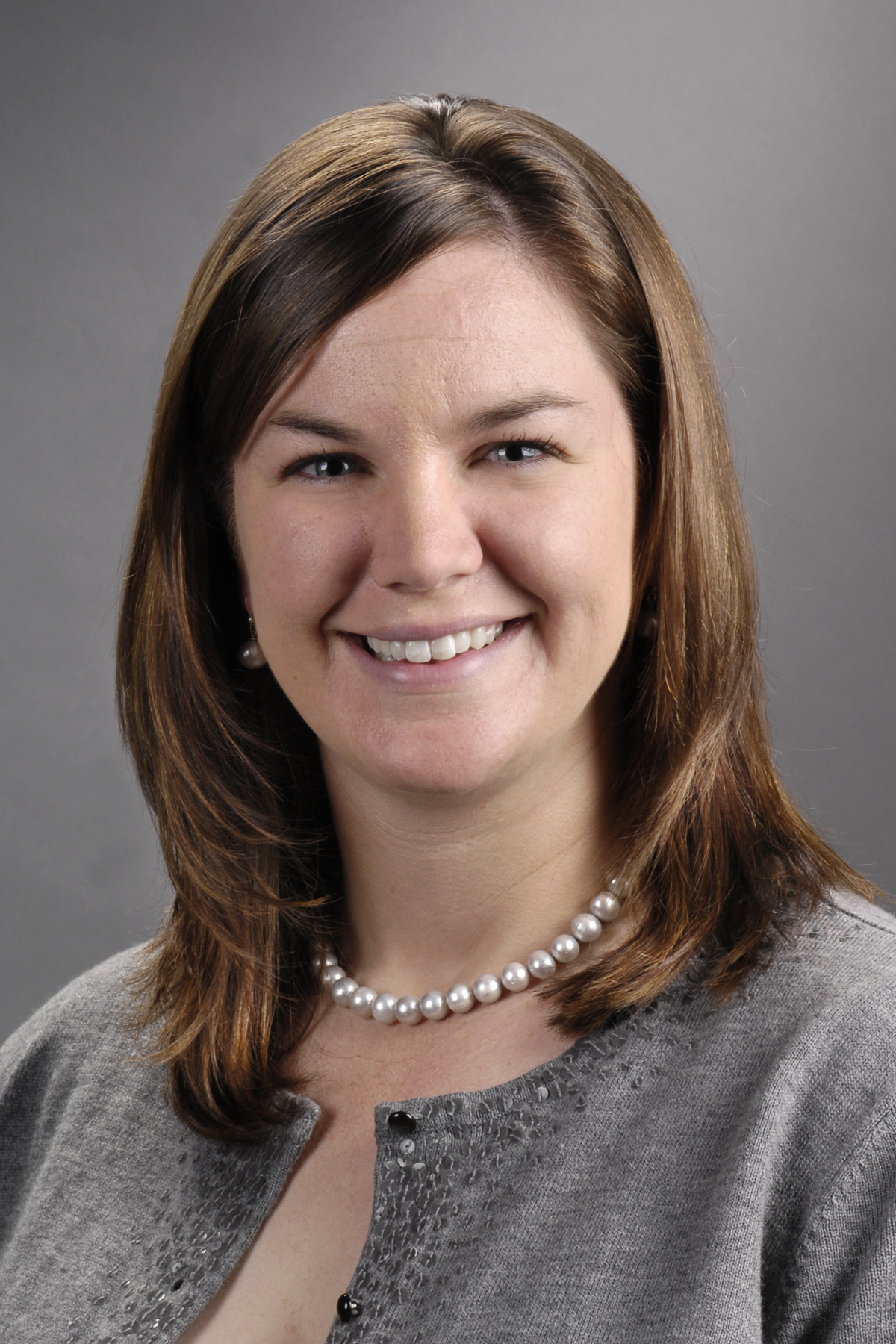 As Executive Director of the Florida Festivals & Events Association (FFEA), Suzanne Neve oversees the state's leading organization for festival and event professionals. FFEA's 450 members represent the industry's top leaders and the Association serves as a resource to help them perform at their peak through education, networking and the cultivation of the highest standards. In her role with FFEA, Suzanne and her team visit events throughout the state of Florida and United States and they strive to connect, educate and advocate on behalf of FFEA's diverse membership. Prior to joining FFEA, Suzanne worked in the events and hospitality industry for over 10 years, producing more than 350 events with combines millions of attendees. She garnered several awards for her work including General Manager of the Year, statewide Community Service Awards, several Telleys, Addys, Daveys and regional marketing awards.
How can FFEA help your business? Call or email us today to find out! 407.203.1334
Share this post: